Agricultural products, big bags, biomass, wood, fertilizers, pallets, paper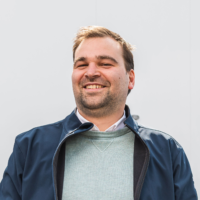 Do you have any questions about purchasing a semi-trailer?
The STAS Biostar walking floor trailer is the most flexible moving floor trailer on the market, without any compromise. From all kinds of agricultural products and manure to wood waste, pallets, and big bags, the STAS Biostar provides an efficient solution thanks to a wide range of specialized options combined with a variety of possible dimensions. By using high quality aluminium alloys with hardness up to 110 Brinell, STAS guarantees the perfect balance between low weight and strength.

The solid frame under the body, built with 140-millimetre-high crossbars - also the highest crossbars on the market - in combination with a steel or an aluminium chassis ensures the most stable and durable unit. Proof of this can be found in the highest second-hand value on the market.
The advantages of the Biostar at a glance
Strongest and most stable frame on the market, with 140-millimetre-high crossbeams and self-supporting body construction

The body and frame are fully automatically welded
Aluminium or steel chassis

Developed with the greatest respect for the combination of strength and being lightweight
Use of high-quality aluminium with very high hardness up to 110 Brinell
Big variety of sizes available
Wide range of specialised options
Specialised options for the STAS Biostar
Manual or electric sheeting systems
Rear doors tailored to your transport needs

Rear door with double lock or four locks
Door with extra-reinforced lock, or even double extra-reinforced lock
Door with integrated sample hatch

Load-specific options:

Hydraulic D'hollandia loading ramp
Forklift truck mount
Forklift reinforcement for the floor slats
Hydraulic high-pressure cleaner with 400-litre water tank
Integrated or removable grain funnel on the rear end, including a viewing window on the side of the trailer

Reinforcements:

Custom wear plates
Protective plates for the end pieces of the floor planks
Extra protection of the top edges